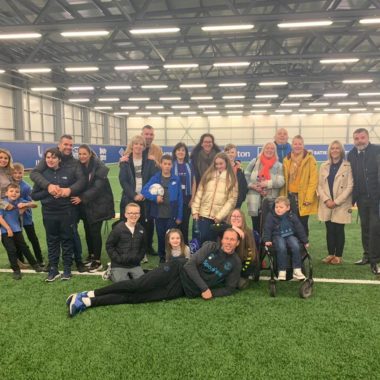 PSP children are superstar mascots for the day!
16th November 2019
Sunday 3rd November was a very special day as PSP teamed up with CBIT  to make dreams come true.  In front of a home crowd at Goodison Park, 5 children went onto the pitch as match-day mascots for the Everton team. The children, who live with the impact of brain injury, attended the match against Tottenham with their families and were given the star treatment for the day.
If the trip to Goodison wasn't enough, the children and their families were also lucky enough to be invited to Everton's training facility at Finch Farm to meet their premier league heros.  With premier league players including Jordan Pickford, Seamus Coleman, Cenk Tosun, Tom Davies, Fabian Delph taking the time to involve the kids, they really were made to feel like superstars!
Two members of the PSP team, Pete Sanderson and Karen Howarth, also went along on the day to ensure the children could each get the most out of the session.
The visits had been in the planning for some time and anticipation was high. However, no amount of excitement could have prepared us all for just how magical the sessions were.
All of the players, staff and coaches at Everton went out of their way to make the day extra special for the children.
Karen Howarth, Clinical Specialist Physiotherapist who was instrumental in organising the day, commented:
"Watching our superstar mascots go onto the pitch was so emotional for the PSP and CBIT teams – having worked with these children for a long time, we know how special the moment was to them.  The Everton staff, players and backroom team were truly amazing with every family. In the middle of a busy season Everton gave our families time – a gift that money can't buy."
Both the training session visit and match day were organised by Everton in the Community in association with the Child Brain Injury Trust. For more information on CBIT, visit their website.
You can watch a video of the training session and match day here.