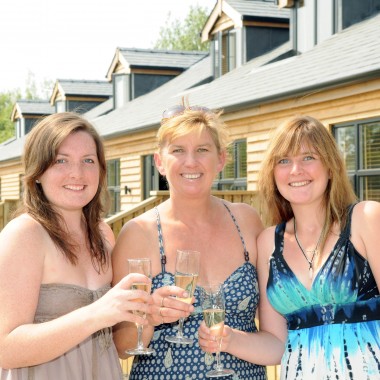 Charlotte Rainford
Charlotte Rainford owes her life to her sister after she was struck by a car on her way to catch a school bus.
By a stroke of luck, older sister Vicki had been given instruction in emergency first aid training at her local scout group a matter of days before.
Doctors admitted that she would not have survived without receiving CPR from Vicki. Even then she was fortunate to live, spending almost four months in a coma.
Since the accident on a notorious stretch of road near the River Wyre in Lancashire in 2007, Charlotte has been slowly nursed back to health by a course of physiotherapy.
Sadly, she was left with severe brain injuries and her life will never be the same again.
But thanks to the care and support of her loving family, and a programme of rehabilitation led by neurological specialists at PSP,  she has made remarkable progress.
"One of the doctors at hospital said I'd never walk again but I wanted to prove them wrong," said Charlotte, now in her 20's, as she walked unaided to the kitchen table at the family's rural home.
"I am a lot better, but without PSP's help I wouldn't have got as far as I have and wouldn't have been as confident as I am. PSP got me walking again."
One of the keys to Charlotte's improvement has been a specific exercise schedule lasting up to two hours a day which builds up her inner core muscles.
Charlotte still suffers short-term memory loss and is easily fatigued but she is now able to help out with jobs at the family's specially built disabled-friendly holiday cottages and enjoys creating glass decorations.
Another significant factor in her recovery has been her own courage and will power. Mum, Sue, explained: "Several months after the accident, hospital staff warned us that Charlotte might not walk again and might spend the rest of her life in a wheelchair, but my husband Ian and I weren't prepared to give up."
"She'd lost the use of the right-hand side of her body and had to be hoisted out of a wheelchair into bed for a year. We were pretty desperate and one of the reasons we went private was because the NHS couldn't provide the level of physiotherapy help she needed."
"It turns out she had also been doing the wrong exercises and it was only when she became a patient of PSP that she was told she needed to build up her inner core muscles which has helped enormously.
"A lot has been to do with Charlotte's determination and getting the right guidance. If PSP hadn't come along, her walking and everything else wouldn't have been to a good standard."
"PSP gave us hope. We are more positive that we can get the daughter partly back that we had lost and back to normality, whatever that is."
Vicki's heroic act, saving her sister's life, was recognised with a prestigious bravery award which quite rightly has pride of place at home.
In her own way, Charlotte also deserves a medal for the fighting spirit she continues to show.  Her courage and determination serves as a shining example to all staff at PSP, how perseverance and belief can pay off.
*Image Courtesy of the Blackpool Gazette