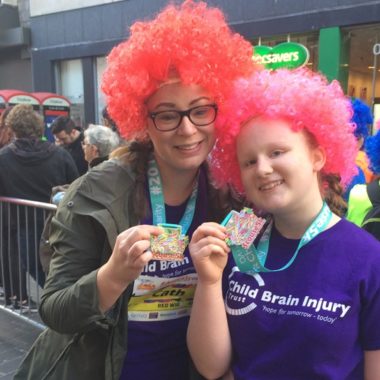 Cath and Neve smash the Scouse 5K!
4th November 2019
PSP physio Cath Johnston and her young patient Neve (aged 13) recently took part in the Scouse 5K in Liverpool City Centre. There was a fantastic atmosphere on the day, and the duo managed to complete the full course within 52 minutes.
Neve sustained a Traumatic brain injury and orthopaedic injures as the result of a road traffic collision, and PSP have been supporting her with her ongoing rehabilitation.
As part of her rehabilitation programme Neve agreed to work towards the goal of walking 5K. As an additional goal, Neve also agreed to run the first 1km – a huge challenge for Neve following her injuries. To help her along the way, Cath Johnston, who has been working with Neve for a little over a year, agreed to participate in the event too!
Goal setting can be extremely powerful in the rehabilitation process – when we first start working with a patient, we conduct an initial assessment, and from that an evidenced based rehabilitation programme is formulated with clearly identifiable goals. We constantly review the goals that have been set to make sure clients reach their full potential.
The event, which encourages all abilities and ages to take part, is known to be a colourful affair, with everybody getting a colourful curly wig to wear! As you can see from these photos, Neve had a superb time on the day!
Commenting on the race, Cath said:
"The goal setting process is a key element to rehabilitation. Identifying a clear target or set of goals to work towards can be instrumental in attaining engagement with therapy – especially in young people.
"I have been thrilled with Neve's efforts – and on the day of the event, she absolutely smashed it! Completing the Scouse 5K was a huge achievement for Neve – she has come so far and we're all very proud of her."