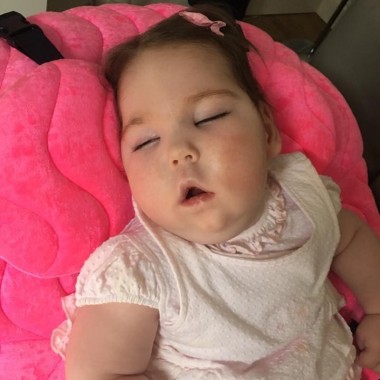 Amber Lloyd
Amber's mum telephoned into our office on 24th May 2017 saying she had been given a recommendation from a friend whose child is also being treated by PSP with a view to one of our team providing a full assessment.
The assessment took place at home on the 8th June with both Amber's parents present.
The following has been extracted from 'Ambers Entourage' blog of her journey since that initial appointment.
Thank you for reading her story
PSP Team
Amber's diary…….
In mum's own words entries posted on Ambers Entourage blog.
8th June 2017
Amber got back from her mini break this morning, she's had the best time & so have mummy and daddy.
This afternoon we've had a very positive meeting with a private company who can hopefully help Amber with extra care and treatment that is not available on the NHS. The company was recommended to us by another mummy who has a little girl with similar complexities to Amber, hopefully they can help Amber they way in which they have helped her little girl.
The man blew us away with his knowledge about Amber's condition and spoke to us about how they can hopefully help Amber fulfil her potential! Luckily he works close with some consultants that Amber is currently under at Alder a Hey which helps!
We already knew that Amber was very lucky to have survived her catastrophic brain injury and that if she was born even just a decade ago the chances of survival would be virtually none. Luckily due to medical advances the rate of survival is now higher and due to better research more treatments are now available. Where would we be without so many intelligent people in the world?!
I just want to point out again that this is private treatment and one of the reasons why we have done some fundraising! Without the help of all you people who have raised and donated money to help Amber this would not be possible! You should all be very proud of yourselves for helping to make a huge difference to Amber's life, we can't thank you all enough
7th July 2017
We've just had another meeting with PSP who will be providing Amber with her private treatment.
They provide so much more than physio, unfortunately they won't be able to work miracles, but they will make sure that Amber is the healthiest and fittest she can be, inside and out!
We will be starting with general physio next week, then we will progress with a more extensive programme from there.
We can't wait to see what lies ahead for Amber, we just want to make sure that she is the happiest that she can be
18th July 2017
Amber tolerated her physio session quite well, but started to get a little bit upset and agitated near to the end.
Nice cuddle with mummy now to calm her back down.
Waste of time washing Amber's hair this morning as it's all sweaty and horrible again now
25th July 2017
Amber showing us some of her moves today at her private physio session
28th July 2017
So far we have used funds to start Amber's private physio sessions. These sessions are extremely expensive for an hour, we will gage over time how beneficial these are to Amber as they will eat up her money pretty quickly. Up to now we are finding them useful and beneficial to Amber, but also to us as parents. They provide us with a lot of advice about how to look after Amber and how to keep her as fit and well as possible.
We are going to start looking into other treatments soon that are more costly, we are willing to try anything that we feel may benefit Amber but not cause her any distress.
8th August 2017
Amber's 'what are you doing to me' face 😂😂.
Amber enjoyed her private physio again this morning and was very well behaved.
Mummy got a bit nervous when Amber got put on her tummy after her antics last year. Amber was doing her exercises with her physio on her stomach when she stopped breathing and had to be resuscitated. We've been very scared to put her on her tummy since, although it wasn't the main cause why she stopped breathing!
Amber had a few visitors this morning, the birthday gifts are already coming in, she's very lucky! I can't believe my little precious one is 1 next Sunday, what a whirlwind year it has been 💗🔶
29th August 2017
Amber has had another private physio session today, unfortunately it didn't go very well and Amber decided she just wasn't interested and became very distressed. After being put back into the arms of mummy, hey presto, good as gold again, she's one crafty little baba our Amber!
Kirsty the Physio was accompanied by Pete, the Clinical Director of the company. What Pete doesn't know about our Amber's condition isn't worth knowing! He had some exciting news on how we can progress with helping to improve Amber's quality of life. He has helped us to understand much more about Amber's condition and why she does some of the things she does. We'll never be able to work miracles with Amber, but it all comes down to making Amber as comfortable as possible and we feel we have found the best company to help us do this!
I'm so glad we got this company involved as unfortunately all the treatment Amber needs isn't always available on the NHS. I do genuinely believe that this company has Amber's best interests at heart, which is extremely important to us!
We would never have been able to afford to approach this company to help Amber so soon. It would have taken us many years to save what Amber has received through all her donations and fundraising. One thing PSP have stressed to us, is that it is better to try to prevent a problem rather than try to fix it. The funds have allowed us to access treatment at a much earlier point of Amber's life which is crucial for her. Thank you to everyone who has made this possible, it really means the world to us and especially Amber 😘🔶
Amber is busy now catching up on some sleep